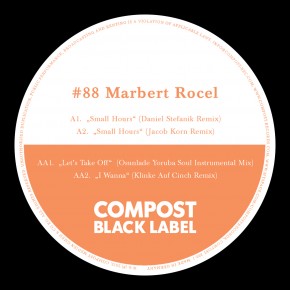 Compost Black Label 88
Marbert Rocel
Deep house in all his variety, from being airy, fluffy, substantial, pushy or cracking to the elegance of indie pop, all in here: bodacious and groovy remixes byDaniel Stefanik, Osunlade, Jacob Korn or Klinke Auf Cinch.
Marbert Rocel, the East German indie pop'n'jazz sensation and live band just brought their third album "Small Hours" to life, capturing a deep sense for beats, smoking, songs, indie pop trips including leftfield house- and jazzy affairs. As Groove magazine wrote "…an album finally progressed their own stunning charm into a higher sphere of danceable indie pop". Well, it's true, Marbert Rocel music is light and sunny, but they working hard with patience, belief, a lot of cigarettes, and dozens of live gigs around Europe, to spread their charm with passion and a wicked glints in their eyes. There is this lack of pretention in their music which everybody loves, actually people from the techno, soul, jazz or pop worlds even all seems to be convinced.
…
Secondly, Jacob Korn from Dresden recently approved his seductive feel of deep house again and again. So if you take look to his career and followe his releases and remixes, you can't deny that he is one of the men of 2012.